Motorized High-Resolution 10x Zoom Lens
35x up to 10000x Magnification
High Resolution 10x Co-Axial
Working Distance: 34 mm to 3.4 mm
Available in both Motorized and Manual versions
The high range optical zoom lens incorporates great expandability and the highest resolution in the HR series. With six interchangeable objective lenses, the lens covers a magnification range from 35x up to 10000x. A directional lighting adapter is provided for co-axial vertical lighting to achieve intricate optical observation.
Objective Lens
OL-35

OL-70II
OL-140II
OL-350II
OL-700II
OL-1000






Magnification
35-350x
70-700x
140-1400x
350-3500x
700-7000x
1000-10000x
Working Distance
34 mm
21 mm
12 mm
10.6 mm
3.4 mm
1 mm
Horizontal View
9.83 - 1.05 mm
4.42 - 0.47 mm
2.21 - 0.23 mm
880 - 90μm

400 - 40μm

300 - 30μm

Lighting Method

Co-Axial Vertical Lighting

ACS Function
Yes
Yes
Yes
Yes
Yes
Yes
Motorization

Zoom

Directional Lighting Adapter
Included with the lens




Co-Axial polarizing adapter

Single wave length adapter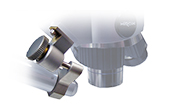 External side lighting adapter


Dark Field Light Ring Adapter
(using main unit fiber cable)
Lighting Method: Ring Lighting Adapter
Weight: 108g
Compatible with OL-35, -70Ⅱ, -140Ⅱ, -350Ⅱ Lens.