High-Range Triple Zoom Lens
35x bis zu 2500x / 5000x Vergrößerung
Dreifacher Objektivrevolver
Unglaublich großer Zoombereich mit einem Dreifach-Objektivrevolver.
The dual illumination mechanism provides both co-axial and ring lighting. 
The operator is free to choose either setting or a mix of both in order to cover a multitude of applications. The lighting system is integrated into the lens and no additional cables are required.
Bereich
Standard Zoom-Linse
Mid-Range
High-Range
2500REZ
High-Range
5000REZ
Vergrößerung
35-250x
140-1000x
350-2500x
700-5000x
Arbeitsabstand
10 mm
10 mm
10 mm
3,4 mm
Horizontale Ansicht
8,71- 1,22 mm

2.18 - 0.31 mm

0.87 - 0.12 mm

0.43 - 0.06 mm

Beleuchtungsmethode

Hell- & Dunkelfeld (Coaxial- & Ringbeleuchtung) und Mischung der beiden

ACS-Funktion
Ja
Ja
Ja
Ja

Im Lieferumfang der Linse enthalten: 
Adapter für gerichtete Beleuchtung

Adapter mit fester Blende

Adapter für variable Blende

Adapter für mittlere Blende

Co-Axial-Polarisationsadapter

Einzelner Wellenlängen-Adapter

Ringlicht-Polarisationsadapter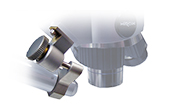 Adapter für externe Seitenbeleuchtung